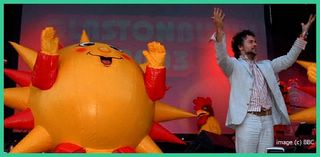 Fifteen years in the making,
The Fearless Freaks
follows the lives and musical careers of Wayne Coyne, Steven Drozd and Michael Ivins, collectively known as The Flaming Lips, probably one of America's finest musical exports.
Director Bradley Beesley, band leader Wayne Coyne's art school neighbour, was given unlimited access to the band for almost 15 years. Following the highs and lows, the heartaches and the tragedies he has put together an enthralling look into the lives and careers. Somehow, against the odds, the self-proclaimed hillbilly punk version of The Who have become one of the rock worlds most engaging and much loved acts.
Looking at their early career as atonal punks through their guest appearance on
Beverly Hills 90210
, their first hit single years into their career with
She Don't Use Jelly
. Its still quite astonishing that a group with barely a hit to their name managed to persuade Warner Brothers to finance
Zaireeka
, a four album set that could only be listened on four separate stereos playing at the same time is amazing, the fact that they toured the album by conducting an orchestra of boom boxes during their car park experiments is even stranger.
The Soft Bulletin
and
Yoshimi Battles The Pink Robots
both brought the band critical acclaim but their modern day concerts featuring giant dancing inflatable suns, people dancing on stage dressed in furry animal costumes, glitter cannons, singing nun hand puppets and blood capsules have become the stuff of legend for anyone who has seen them perform.
Steven Drozd, an ex-heroine addict gives a shockingly detailed account of his battles and the bands tough love approach in trying to make him stop. A musical genius and multi instrumentalist, it is distressing to hear him discuss his addiction whilst he graphically shoots up in front of the camera. It's a brave move on Beelsey's part to include the footage but it gives the band an even human side, as does footage of front man Coyne dealing with his fathers death. The shots of Coyne helping the roadies set up the bands stage set and adjust the stage lighting just makes you love him and the band even more.
In these days of pop prima donnas it's amazing that possibly the strangest and most beguiling band working today are also the most human. The film is a joy from beginning to end and a must for anyone with an interest in vibrant and daring music. This reviewer may be slightly biased having seen the band on numerous occasions but
The Fearless Freaks
is a five star triumph.
Complete review available at www.cinephilia.net.au