Happy New Year to you all. Well 2006 looks like it will be as busy if not busier than last year so here goes. The first issue of
Smoke and Mirrors
; the Australian special effects magazine, is almost with us. The first issue will see my report from the set of
Rogue
and a profile of UK company
Framestore cfc
, the men and women behind some breathtaking imagery in the recent
Harry Potter and the Goblet of Fire
,
Doom
and
Charlie and the Chocolate Factory
. Many thanks to Matt Hearn, David Lightfoot for their time and Ayisha Davies for making the set visit possible; from what I've seen so far
Rogue
will prove that
Wolf Creek
was no one off. Also thanks to Steph Bruning at
Framestore
for her gracious help.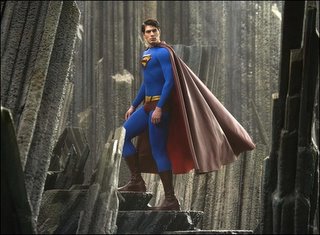 S
t
arburst
issue #333 will feature part one of my preview of my
Superman Returns
set visit. The actual report will be featured around the film's release in July and will include my interviews with Bryan Singer, Brandon Routh, Kate Bosworth, Parker Posey and Kevin Spacey. Issue 4 of
Cinem
a Retro
includes a brief news piece on the recent Stanley Kubrick exhibition, the full report will appear in the next issue. I've also just sent off the third DVD Down Under report for
DVD World
so look out for that soon.